Welcome to the online home of Schoenberg Guitars!
We are two overlapping enterprises here at 106 Main Street in Tiburon, California. First, we are our own tradition-based Schoenberg Guitars, representing the very best of the hand-builder's art in sound-quality, playability & projection. And, second, we are the friendly brick-and-mortar store where these and other great instruments are bought, sold, traded & repaired. Our unique inventory includes many of the finest vintage Martins & Gibsons available anywhere--even some one-of-a-kind museum pieces-- as well as old & new guitars, mandolins, ukuleles & banjos, all from brand-name-makers and hand-builders. And we carry the best-sounding instruments we can! We cater to the experienced musicians looking for 'lifetime' instruments and, also, to the absolute beginner looking for an inexpensive yet playable entry-level one. In fact, we have outstanding instruments at all price levels, and these include a custom set-up! (We have a reputation for our great set-ups, done while you wait.) And we're not just guitars. We have a huge selection of ukuleles, from inexpensive to hand-made. And mandolins at all price-points. We also host in-shop concerts by world-class musicians & offer lessons from a first-rate instructor. And here, our online home, is the place to find all of our wares & information about our activities.
Please take a tour of our website and contact us with any questions. We update our inventory almost daily. (Here are some hints to help you with any of your searches.)
For photos of instruments, go to the individual page of that instrument. Then click on the first photo -- often a headstock photo -- others are available, then, by clicking on the arrows.
Also, if you check in the menu list (up on the left) under "Departments" you'll find our Archive Gallery, a listing of our sold instruments with photos & info. It's a collection of fascinating guitars and a useful history of the acoustic guitar, in some ways.
Questions about repairs?. . . see the information below the 'Lessons' segment on this page.
Finally, we always have great 'starter' instruments for beginners in stock -- ukuleles start at $49 & guitars at $199, all with professional set-up included at no extra charge. You'll be surprised by the quality you get for so little money!
Thanks for dropping by!!
---
Our Newest Instruments
Soon to be listed
1914 Gibson 3-Point F-4
Mark Grant Terreplane Long Tenon '59

Mark Grant Terreplane Lowrider

Lyon & Healy Style A Mandola

1965 Fender Deluxe Reverb

© 1927 Gibson L-1

National Triolian Tenor Guitar

Gilchrist F-2

1953 Gibson ES-140

1991 Schoenberg Soloist, used by Rory Block, new lower price!

1995 Flatiron Performer A

Mid 1950's Gibson L-5C

Froggy Bottom Parlor, recent

1999 Ibanez AAF207 7-Sring

1954 Gibson Super 300

1938 Gibson EH150 Lap Steel

1935 Rickenbacher Ken Roberts Electro, 1st Electric Guitar

1966 Martin D-28

1964 Martin 000-28C

Leland Mandocello

1968 Winston Electric Tenor Banjo (Kawai)
---
Alec Stone Sweet, with Larry Hanks & Richard Scholtz In Concert In March
Saturday, March 3, 8 p.m.
When Alec isn't teaching international law or competing at the World Pétanque Championships, you may find him with a guitar in hand. His specialty is clawhammer guitar – an application of an old banjo technique to the steel string guitar. Alec is a clawhammer virtuoso; there is no one whose touch, timing and 'feel' for this music is greater. He is, then, an incomparable exponent of old fiddle tunes, old Celtic and European folk melodies, and Appalachian traditional music played in this particular style. This may make his finger-picking sound dry or overly academic, but -- as with any beautiful playing -- Alec breathes soulfulness into every note. You can find his music on two Solid Air recordings: "Memory and Praise: Acoustic Guitar Solos" and "Tumblin' Gap" Clawhammer Guitar Solos," discs we particularly recommend. To hear him live in our perfect acoustic is to listen to timelessness itself rendered through wood & steel and carried on waves of hushed emotion. Tonight, Alec is joined by Larry Hanks, a terrific singer of traditional songs & esteemed Jew's harp virtuoso, and Richard Scholtz, whose mastery of the autoharp is legendary in the Pacific Northwest.
On Alec's CD 'Memory & Praise':
"Entrancing, the rhythmic sense and phrasing are spot on. Compulsory listening for guitar fans . . ." – Acoustic Guitar Magazine
"This record would serve to explain to the uninitiated just why we care so much about these old melodies, about just what a tune is really about." - The Old Time Herald
"As beautiful a solo guitar record as I have ever heard." – Eric Schoenberg
Tickets: $20 in advance; $25 at the door. For tix, call: 415-789-0846
---
Tony Marcus & Andy Stein In Concert In March
Thursday, March 22, 8 p.m.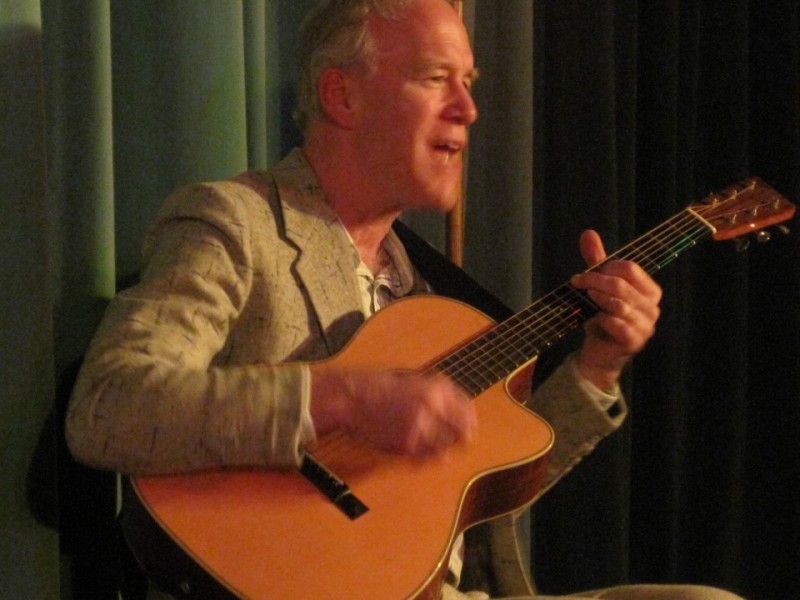 Tony, a long-time friend of the shop, has the Swing Era in the marrow of his bones. Many know him from Cheap Suit Serenaders and the hot swing trio Cats & Jammers, who released a number of discs over their 16 year evolution. He's recorded Western swing with Bobbie Black and fiddler Paul Anastasio. And you'll find him performing with his wife, Patrice Haan, in Leftover Dreams, drawing from the Great American Songbook. Tonight, Tony brings along Andy Stein, whose name will be familiar to long-time listeners of A Prairie Home Companion (Andy also appears in the movie) where Andy was the fiddler (and saxophonist!). Andy, too, is a founding member of Commander Cody and His Lost Planet Airmen, the composer of numerous film scores, and the fiddler for a couple of Ken Burns' documentaries. Tonight, expect beautiful swing & virtuosic soloing: the tasteful musical ruminations of two masters!
Tony Marcus "spins out dazzling and emotionally evocative solos." – Derk Richardson, The Express
Tickets: $20 in advance; $25 at the door. For tix, call: 415-789-0846
---
Sign Up for GROUP GUITAR or UKULELE Lessons now!
JOE MILLER is offering group classes for adults & teens starting January 16, 2018. Join the fun!
All group classes will be held at Westminster Presbyterian Church, 240 Tiburon Blvd., Strawberry/Tiburon (across from The Cove Shopping Center, less than one mile from Highway 101.)
BEGINNING UKULELE:
January 17- March 14, Tuesday evenings 8:05-9:05, 9 weeks $195
BEGINNING FOLK/POP GUITAR:
January 16- March 13, Tuesday evenings 7-8:00, 9 weeks $195
ACOUSTIC JAM SESSION!
January 17-March 14, Wednesday evenings 7-8:00, 9 weeks $195
CONTINUING UKULELE:
January 16-March 13, Wednesday evenings 8:05-9:05, 9 weeks $195
YOUTH GUITAR and UKULELE will resume at some point, Tuesday afternoons 4:15-5:15. Ages 10-18. Students must know common chords and be able to keep a beat. The class focuses on strumming chords with other people.
Complete Class Descriptions are at JoeGuitarMiller.com.
To register, please drop in at the store (closed Mondays), or send payment to:
Joe Miller, c/o Eric Schoenberg Guitars, 106 Main St., Tiburon, CA 94920
Please include your email and phone #, and specify which class you want to take.
PRIVATE LESSONS for ages 5 through adult are offered here at the store on Sundays and Mondays, and at Westminster Church on Wednesdays and Thursdays; for info please call Joe Miller at (415) 480-9618.
---
Repairs & Other Work on Guitars
Repairs
We do all kinds of repairs on guitars, mandolins, banjos & ukuleles, from simple set-ups to complete restorations. We do neck re-sets on a regular basis, fret-work, bridge re-glues, etc. We work on modern guitars from all makers, from the most basic to the most expensive, and also on pre-war Martins, Gibsons, Nationals, Regals, Kays, the guitars of the Larson brothers, and others.
We are a Martin-Authorized Warranty Repair Center.
Set-ups can usually be done while you wait. More involved repairs, like neck-resets, can take 6 to 8 weeks because of our work load.
Revoicing & Neck Reshaping
Because instruments respond to subtle adjustments, over the years we've developed techniques for re-voicing guitars. We are now accepting work on customer's instruments. Let us bring your instrument's voice more in line with your preferences.
We also reshape necks, knowing how important neck shape is to a guitar's playability.
Call for prices and to discuss the improvements you'd like to see in your guitar.
---
Recommended Videos
* Julian Lage: The best guitar player in the world plays the best guitar in the world
* Check out this video of the Recording King Interview with Eric Schoenberg
* Eric performing his composition All In Good Time at the Schoenberg Guitars 20th Anniversary Concert.
* Eric playing Good Ship Lollipop on his 1929 L-5.
* Eric While My Guitar Gently Weeps, on his Schoenberg 0C Standard