Welcome to the online home of Schoenberg Guitars!
We are two overlapping enterprises here at 106 Main Street in Tiburon, California. First, we are our own tradition-based Schoenberg Guitars, representing the very best of the hand-builder's art in sound-quality, playability & projection. And, second, we are the brick-and-mortar store where these and other great instruments are bought, sold, traded & repaired. Our unique inventory includes many of the finest vintage Martins & Gibsons available today anywhere—even some one-of-a-kind museum pieces— as well as old & new guitars, mandolins, ukuleles & banjos, all from brand-name-makers and hand-builders. We cater to the experienced musicians looking for 'lifetime' instruments and, also, to the absolute beginner looking for an inexpensive yet playable entry-level one. In fact, we have outstanding instruments at all price levels, and these include a custom set-up! (We have a reputation for our great set-ups, done while you wait.) We also host in-shop concerts by world-class musicians & offer lessons from a first-rate instructor. And here, our online home, is the place to find all of our wares & information about our activities.
Please take a tour of our website and contact us with any questions. We update our inventory almost daily.
Here are some hints to help you with your search.
Thanks for dropping by!!
---
Our Newest Instruments
Soon to be listed
1938 Gibson L-00, new lower price!
1942 Martin D-18
1967 Martin D-21, new lower price!
1938 Gibson PG-7 Plectrum Guitar
© 1920's Martin Style 3 Custom Soprano Ukulele
2005 Hopkins Contessa
1880's Martin 2 1/2-17
1930 Martin 00-40H
Yamamoto Talus VL14, new
1997 Claxton EM Prototype
2000 Claxton EM-C Brazilian
Gold Tone BG-250
2008 Martin 0-18 Custom
1966 Martin D-18
1939 Epiphone Broadway
1928 Gibson L-4
1918 Gibson Model U Harp Guitar
1943 Martin 0-18 (2)
1967 Martin D-12-35
New! 'Baggage Man'-Outboard Pre for the L.R. Baggs Lyric pick-up
Baby Taylor, recent
2011 Martin CS-21-11 (2)
Mark Leaf Single '0' Flight Case, Used
---
Linda Waterfall In Concert In February
Thursday, February 11, at 8 p.m.
Linda is a Seattle-based singer-songwriter whose talents cut a wide musical swathe. Her amazing voice, impeccable finger-style guitar, her harmonies rooted in jazz, her training in theory, composition and classical piano – everything is brought to bear on the song and in the singing. Linda is also a serious composer of art songs and choral music and an arranger of choral music, often performed acapella or with piano accompaniment. She has taught songwriting for 15 years through the Washington State Arts Commission. And the Puget Sound Guitar Workshop gets the benefits of her teaching skills regularly. Her new CD, "Hometown Girl," was included by Seattle Times critic Paul de Barros in his list of "10 Favorite Albums of 2015." If you hear hints of Carly Simon or Joni Mitchell here, listen more closely -- it's really all Linda . . .
"She is simply one of the finest fingerpicking guitar players alive on planet Earth today." – Folk Alliance Newsletter
"Totally refreshing and invigorating. The music's soaked in classical influences….draws together rock, pop, jazz and folk elements into a label-defying synthesis. Linda's instrumental prowess elicits the use of superlatives…."—Tony May, Folk Root
"Her musicianship is astonishing, and her lyrical sense is at the cutting edge. I can't see any serious fan of songwriting remaining ignorant of her work."-- Bob Franke, New England Folk Almanac
Tickets are $15 in advance, $20 at the door
Call for tickets: 415-789-0846
---
Pierre Bensusan In Concert In March
Saturday, March 12, at 8 p.m.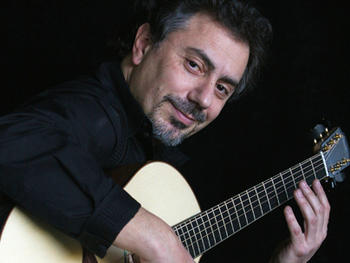 The legendary Pierre Bensusan returns to the shop to bring us a virtuosity rooted in the primary fingerstyle documents – Irish tunes, world folk music, and Appalachian songs – and a deep feeling for the creative musical sources from which all of this music flowed. His influences are many – you can hear Keith Jarrett & Astor Piazzolla in his improvisations. But Pierre's music transcends labels – his unique voice was formed long before the terms "New Age," "New Acoustic Music" or "World Music" were invented – what you hear in Pierre is a great composer of melody and a stunning accessibility. There is a sense of something both playful and serious in his work, and a sense of soulful freedom in his compositions and his improvisations. His last concert was the standout session of the year. We expect no less from Pierre tonight!
"Pierre's music gives me the shakes. No other guitarist shares his strange gifts of sophistication, accessibility and downright joy. Even at its most complex, Pierre's music only needs ears to be enjoyed." –Leo Kottke
"Bensusan's remarkable technical ability has never been in question, but it's the sheer musicality and lyricism of his body of work that has cemented his position as one of the most accomplished acoustic guitarists on the planet." – John Kelman, Allaboutjazz.com (USA)
Tickets are $20 in advance, $25 at the door
Call for tickets: 415-789-0846
---
Sign Up for Group Guitar Lessons Now!
Sign Up for Group Guitar or Ukulele Lessons Now!
All of Joe's classes in Ukulele, Music Theory, & Guitar will be held at Roots Music Marin, 1455 East Francisco Blvd, San Rafael (near Home Depot). All classes are $125 for 6 weeks of one-hour classes, including all materials. You can register with a check to Joe sent to the store (Joe Miller c/o Eric Schoenberg Guitars, 106 Main St., Tiburon CA 94920) and please include a phone number and email. Click here for more details: Music Lessons. More info is also available at JoeGuitarMiller.com. All group classes are open to adults and teens.
BEGINNING UKULELE Group starts Wednesday Jan. 6, 2016, 8:05 to 9:05 PM
Continuing Ukulele Group starts Thursday January 21, 8:05 to 9:05 PM, and Wednesday February 24, 8:05 to 9:05 PM
Advanced Ukulele Group starts Thursday January 21, 7 to 8 PM
MUSIC THEORY for Guitarists and Other String Players will be offered again in September 2016
BEGINNING FOLK / POP GUITAR starts Tuesday January 5, 8:05 to 9:05 PM
Continuing Folk / Pop Guitar starts Tuesday February 23 2016, 8:05 to 9:05 PM
American FINGERSTYLE GUITAR and JAM SESSION starts Wednesday January 20 2016, 7 to 8 PM, Some ability to read music is very helpful for this class.
Private lessons for all ages are available both in Tiburon & San Rafael; please email JoeMiller1@gmail.com or call (415) 480-9618 for more info.
---
Recommended Videos
* Julian Lage: The best guitar player in the world plays the best guitar in the world
* Check out this video of the Recording King Interview with Eric Schoenberg
* Eric performing his composition All In Good Time at the Schoenberg Guitars 20th Anniversary Concert.
* Eric playing Good Ship Lollipop on his 1929 L-5.
* Eric While My Guitar Gently Weeps, on his Schoenberg 0 Cutaway