Welcome to the online home of Schoenberg Guitars!
We are two overlapping enterprises here at 106 Main Street in Tiburon, California. First, we are our own tradition-based Schoenberg Guitars, representing the very best of the hand-builder's art in sound-quality, playability & projection. And, second, we are the brick-and-mortar store where these and other great instruments are bought, sold, traded & repaired. Our unique inventory includes many of the finest vintage Martins & Gibsons available anywhere—even some one-of-a-kind museum pieces— as well as old & new guitars, mandolins, ukuleles & banjos, all from brand-name-makers and hand-builders. And we carry the best-sounding instruments we can! We cater to the experienced musicians looking for 'lifetime' instruments and, also, to the absolute beginner looking for an inexpensive yet playable entry-level one. In fact, we have outstanding instruments at all price levels, and these include a custom set-up! (We have a reputation for our great set-ups, done while you wait.) We also host in-shop concerts by world-class musicians & offer lessons from a first-rate instructor. And here, our online home, is the place to find all of our wares & information about our activities.
Please take a tour of our website and contact us with any questions. We update our inventory almost daily.
Also, if you check in the menu list (up on the left) under "Departments" you'll find our Archive Gallery, a listing of our sold instruments with photos & info. It's a collection of fascinating guitars and a useful history of the acoustic guitar, in some ways.
And here are some hints to help you with any of your searches.
Finally, we always have great 'starter' instruments for beginners in stock -- ukuleles start at $59 & guitars at $199, all with professional set-up included at no charge. You'll be surprised by the quality you get for so little money!
Thanks for dropping by!!
---
Our Newest Instruments
Soon to be listed
Larson Brothers Maurer-Branded Euphonon
Sergei DeJonge Spanish Cedar
Stefan Sobel Brazilian
Merrill C-18
1966 Fender Vibrolux Reverb, in transit
1942 Gibson L-0, in the shop
1962 Gretsch Tennessean
1966 Gretsch Country Gentleman
1918 Gibson Model U Harp Guitar
1943 Martin 0-18
'Baggage Man'-Outboard Pre for the L.R. Baggs Lyric pick-up
Mark Leaf Single '0' Flight Case, used, excellent condition
---
Steve James & Del Rey in Concert in June
Thursday, June 30 at 8 p.m.
Steve, a bottleneck guitar master, has been busy touring as a solo artist and with his frequent duet partner, Del Rey. Recently, he's recorded with Maria Muldaur, performed on "A Prairie Home Companion," and been on a Grammy-nominated tribute to Mississippi Fred McDowell. His own CDs have garnered much critical praise, and his concerts here – solo and with Del – have been superlative. Steve also writes and sings with breadth and great taste – he can hit you hard with the blues or swing you softly with poetry. Del has the best left hand in the business, moving her fingers through the country blues, stride piano & ragtime enthusiasms of old-timers like Bo Carter & Memphis Minnie. She plays the resonator guitar and resonator uke, sings, and takes us to places only hillbilly boogie will get us to! It's easy to call her incomparable, as no one brings the same verve and virtuosity to this music. She has two Homespun instructional DVDs to her credit, Blue Uke and Boogie Woogie Guitar, as well as numerous CDs. Together, Steve & Del redefine the past -- it's a goldmine for our ears as they take the rhythmic urgency of the 20s & 30s & bring us up to a present full of smiles! Come join us for the sheer joy of it!
"Flawless fingerpicking and slide guitar paired with an idiosyncratic writing style and an exuberant performance persona make Steve James come on like a full band." -- Dirty Linen Magazine
"If you like your blues warm, wise, witty and well-played, give Del Rey a listen." – Dirty Linen
"Del Rey packs a whole orchestra into her resonator guitar." – Southland Blues
Tickets are $20 in advance, $25 at the door
Call for tickets: 415-789-0846
---
Mike Wollenberg & Julian Smedley in Concert in July
Saturday, July 23 at 8 p.m.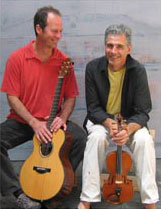 Mike and Julian play old standards in a new way – you hear every bit of a song's history in their "retelling" of old melodies. That's the nature of the history of jazz – innovation meets re-creation, all the while keeping the beauty of the tune. These two are masters, steeped in melody and looking for the inherent sweetness of the music they play. It's Julian on the violin and guitar -- he was a co-founder of The Hot Club of San Francisco and collaborator with Paul Horn and David Grisman. And there's Mike, who is the consummate fingerstyle jazz guitarist, best known for his live solo work and many CDs. If there is a moving bass line & a melody that's longing to be sung with an angelic voice, Mike will find these notes on the guitar and bring them together. And Julian & MIke? They have played together for years – and recorded together too – so we're in for an artful and soulful exchange of the currency of jazz. Generosity will be the word of the day!
"Mike Wollenberg is a magician of solo guitar . . ." Tuck Andress, of Tuck and Patti
Tickets are $20 in advance, $25 at the door
Call for tickets: 415-789-0846
---
Sign Up for Group Guitar Lessons Now!
SIGN UP FOR

GROUP GUITAR OR UKULELE LESSONS

NOW!
All of Joe Miller's
group
classes in
Guitar, Ukulele, and Music Theory
will be held at Roots Music Marin, 1455 East Francisco Blvd., San Rafael (near Home Depot). You can register by mailing a check to the store, payable to Joe Miller (Joe Miller, c/o Eric Schoenberg Guitars, 106 Main St., Tiburon, CA 94920. Please include your email and phone number, and specify which class you want to take.
BEGINNING

UKULELE
Tuesdays 7 - 8 PM, April 19 - June 14, 2016, 9 weeks $185.
BEGINNING FOLK/POP

GUITAR
Tuesdays 8:05 - 9:05 PM, April 19 - June 14, 2016, 9 weeks $185.
AMERICAN
FINGERSTYLE
GUITAR
and
JAM

SESSION
Learn Travis picking and jamming skills. Wednesdays 6:45 - 8:00 PM, March 9 - April 13, 6 weeks $125; also April 20 - June 15, 2016, 9 weeks $185.
CONTINUING

UKULELE
Wednesdays 8:05 - 9:05 PM, April 20 - June 15, 2016, 9 weeks $185.
ADVANCED

UKULELE
Thursdays 7 - 8 PM, March 10 - April 14, 6 weeks $125; also April 21 - June 16, 2016, 9 weeks $185.
CONTINUING FOLK/POP
GUITAR
Tuesdays 8:05 - 9:05 PM, February 23 - March 29, 6 weeks $125.
MUSIC THEORY

FOR GUITARISTS AND OTHER STRING PLAYERS
will be offered again in Sept. 2016.
PRIVATE LESSONS
for all ages are offered in both Tiburon (Sunday and Mondays) and San Rafael (Tuesdays, Wednesdays and Thursdays). For more info please call Joe Miller at (415) 480-9618, or email
JoeMiller1@gmail.com
.​
---
Recommended Videos
* Julian Lage: The best guitar player in the world plays the best guitar in the world
* Check out this video of the Recording King Interview with Eric Schoenberg
* Eric performing his composition All In Good Time at the Schoenberg Guitars 20th Anniversary Concert.
* Eric playing Good Ship Lollipop on his 1929 L-5.
* Eric While My Guitar Gently Weeps, on his Schoenberg 0C Standard