Welcome to the online home of Schoenberg Guitars!
We are two different enterprises based at 106 Main Street in Tiburon, California. First, we are our own line of top quality, tradition-based hand-built Schoenberg guitars. And, second, we are the store in which they, along with the instruments of other top builders -- as well as new & vintage guitars, mandolins, ukuleles & banjos -- are bought, sold, & repaired. We cater to the needs of experienced musicians looking for one-of-a-kind instruments and, also, to the new player and absolute beginner. In fact, we have outstanding instruments at all price levels, and these include a custom set-up! (We have a reputation for our great set-ups, done while you wait.) We also host in-shop concerts by world-class musicians & offer lessons taught by a first-class instructor. And here, our online home, is the place to find all of our wares & information about our activities.
Please take a tour of our website and contact us with any question. Here are some hints to help you with your search.
Thanks for dropping by!!
P.S. We've always loved showing the Schoenberg guitars at the Healdsburg Guitar Festival. Though the festival will no longer be held we still have our 2013 HGF handout describing the hand-built Schoenberg guitars:
Download Pamphlet (pdf, 10MB)
---
Our Newest Instruments
Soon to be listed
1934 Gibson L-00 (in the shop)
1924 Gibson L-3
1931 National Triolian Tenor Guitar
Yamamoto OMY Cocobolo, New
1936 Gibson HG-00
ca. 1870 Martin 2 1/2-18, mint cond.
Moonstone 000-42 Brazilian
ca. 1938 Gibson "Special Flattop" L-00 Rosewood/L-12 Neck (in the shop)
1970's Dobro Model 66
1928 Gibson L-2, in the repair shop
2014 Moonstone 00C Cocobola
2012 Martin OM-42
Calton D Case, Used
Mark Leaf "0" Case, Used
---
Michael Chapdelaine In Concert In April
Saturday, April 18, at 8 p.m.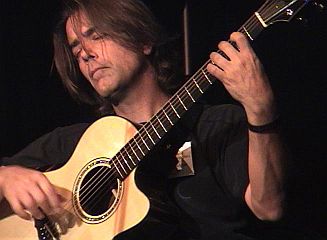 Since Michael's first wonderful concert here a couple of years ago we've been hoping to lure him back. He's definitely one-of-a-kind! After years into his career as a prize-winning classical guitarist, Michael swerved -- he took himself to Winfield, Kansas, in 1998 and won the legendary National Fingerpicking Championship. Now he's performing solely on the steel string guitar and loving it. Michael takes tunes and seeds a bass line, harmonic turns, and singing melodies to bring to mind the original bands whose songs these are – like "California Dreaming," "Walk Don't Run" or "A Rose In Spanish Harlem." He also makes The Beatles sound great on six strings. WIth his complete technique and sensitive readings of great classics we know that, again, Michael will "wow" us with both the sassy and soulful!
"It's rash, of course, to go overboard on the basis of a single album, but if I were marooned on a desert island with a limited selection of recordings, this one would be among my choices." -- A Acoustic Guitar Magazine
Tickets are $20 in advance, $25 at the door
---
Sign Up for Group Guitar Lessons Now!
Beginning Folk / Pop Guitar for Adults and Teens, with Joe Miller
Mondays, 8:05-9:05 PM November 10 - December 15, 2014 6 weeks for $125. Register with a check to Joe sent to the store; please include a phone number. Click here for more details: Music Lessons
Joe's classes in Ukulele, Music Theory, & Guitar will be held at Roots Music Marin, 1455C East Francisco Blvd, San Rafael. Here is the upcoming schedule at Roots Music:

Beginning Ukulele group starts 7 ? 8 PM Thursday, Jan. 8, 2015
Music Theory for Guitarists and Other String Players starts 8:05 ? 9:05 PM Wednesday, Feb. 11, 2015 (no class Feb. 18)
Beginning Folk / Pop Guitar starts 8:05 ? 9:05 PM Thursday Feb. 5, 2015

For more info & to register, please go to eplay.livelifelocally.com. Click on Programs, then Advanced Search, & type in Ukulele, Music Theory, or Guitar. You can also register by mailing payment to Joe at the store; all group classes are $125 for six weeks.
Private lessons for all ages are available both in Tiburon & San Rafael; please email JoeMiller1@gmail.com or call (415) 480-9618 for more info.
---
Recommended Videos
* Julian Lage: The best guitar player in the world plays the best guitar in the world
* Check out this video of the Recording King Interview with Eric Schoenberg
* Eric performing his composition All In Good Time at the Schoenberg Guitars 20th Anniversary Concert.
* Eric playing Good Ship Lollipop on his 1929 L-5.
* Eric While My Guitar Gently Weeps, on his Schoenberg 0 Cutaway